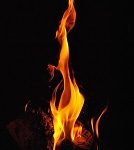 KBMW News
March 4th, 2019
On Sunday, March 3rd the Breckenridge Police and Fire Departments responded to 809 13th St. N for a house fire. Officers located one room on fire inside the home. Fire crews were able to contain and extinguish the fire quickly with minimal damage to the home.
The circumstances of the fire were considered suspicious, so the Minnesota State Fire Marshall's Office was called in to investigate. The adult male resident of the home was arrested for arson.
There is no danger to the public at this time, and the case remains under investigation.